Flawless Faces & Fabulous Fashion! Last night was no shocker when it came to glam getups at the 2012 Met Gala. Every year the Gala is held to open the Metropolitan Museum's Fashion exhibit in NYC where the red carpet is rolled out and the stars strut their stuff at what I think is THE most exciting red carpet when it comes to fashion. Check out few of my favorite Stunners.
Gwyneth Paltrow, in Prada... OMG could she be any more perfect in that dress and those heels?!?

Gwyneth Paltrow
Jessica Alba, in Michael Kors
The always outrageous Marc Jacobs with Milla Jovovich, in Prada keepin it fun... they look like they are having a blast!
Marc Jacobs with Milla Jovovich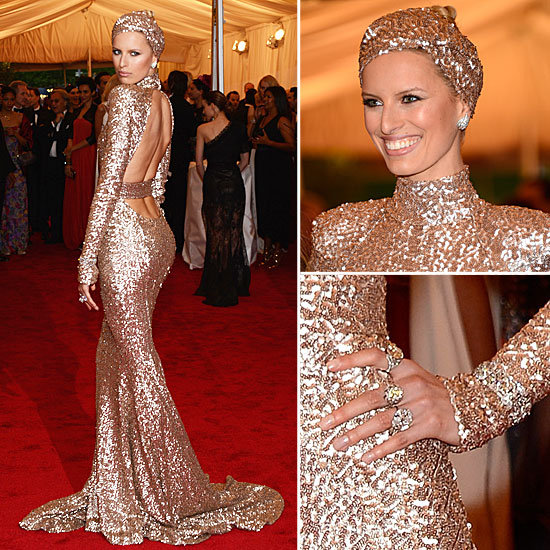 All the sparkle!!! Head to Toe thats Karolina Kurkova in Rachel Zoe
Camilla Belle in Ralph Lauren looking so Art Deco.
Funny Girl Kristen Wig looking so cute in Stella McCartney
New MaMa Beyonce looking fantastic in Givenchy .


Fashion Genius Jason Wu with Karlie Kloss (obviously Kloss wearing Wu) this is such a pretty feminine gown.


My favoriate color for the evening was YELLOW! and these ladies pulled it off.

Solange Knowles in Rachael Roy flirty peplum gown; January Jones in a perfect form fitting Versace



My vote for overall best look is Coco Rocha in vintage Givenchy which was once owned by Elizabeth Tayolor.
Rocha's look is so much fun, killer hair... very SHOCKING!
photo credits: